Welcome to the Mark Twain Library!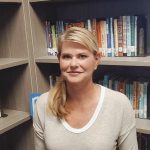 Hello and welcome to our library!
My name is Kolleen Dominguez and I am beginning my 10th year at MTE. I love sharing the library with all the students at Mark Twain. Our library mission is to create lifelong readers and learners by engaging students in inquiry lessons that integrate critical thinking, information literacy, digital citizenship, innovation and the active use of technology. In my free time, I love spending time with my family, traveling, walking and of course, reading. 
Library & Information Technology Educator (LITE)
Click on the A/R link to access
Accelerated Reader