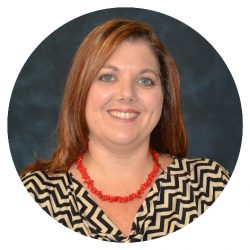 Hello Dover Community!

I am Jennifer Balch, proud principal of Dover Elementary. It is my honor and privilege to continue to serve our students and community. With more than 20 years' experience in Richardson ISD, I am passionate about our students, families and community. I have a strong belief that all students can thrive and be successful with the right support and motivation of those around them.

I have earned a bachelor's degree in Elementary Education from the University of Nevada, Las Vegas and a master's degree in Education Administration from Lamar university. I began my education career teaching many different grade levels, from Junior High (6th and 7th grade) to 1st and 4th grade in Elementary school. My work has led me to be an Instructional coach, Assistant Principal and to becoming the leader of Dover.

Our Dover staff is committed to helping all children RISE Up and find their greatest potential. Our focus for our leaders is: Responsibility, Respect, Integrity, Self-control, and Excellence. We believe in finding each individuals strength and helping them learn how to leverage it with a growth mindset. Small steps today, turn into large accomplishments later.