Welcome to the MST Library!
The MST Library's mission is to teach inquiry and information literacy skills within the context of content curriculum, teach digital citizenship and online safety, and promote a school-wide culture of reading.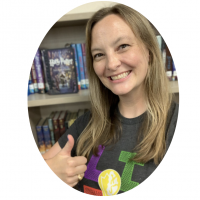 Howdy MST Community! My name is Kristin Anderson and I am thrilled to join MST this year as your Library & Information Technology Educator (aka LITE, aka librarian)! This is my ninth year as a LITE in RISD and my twelfth year in education. My passion is connecting students to books that spark their interest and creating a welcoming and engaging learning environment where students can explore, create, learn, and grow. I'm looking forward to a marvelous year in the library!
Kristin Anderson, Library & Information Technology Educator | kristin.anderson@risd.org | 469-593-7344