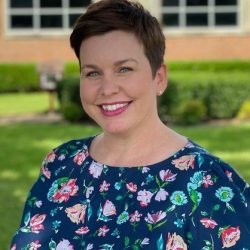 Principal Lyndsey Gammaro
Northrich Community,

My name is Lyndsey Gammaro, and I have proudly served as the Principal at Northrich Elementary since 2020.

I have been in Richardson ISD for 17 years. I began my journey as a classroom teacher at Aikin Elementary and Audelia Creek Elementary. In addition to the classroom, I was an Assistant Principal for 7 years working with the communities at Carolyn G. Bukhair Elementary for 5 years and Hamilton Park Pacesetter Magnet for 2 years.

As a leader, I firmly believe in the power of positive relationships. Relationships are important to building connections, allowing effective collaboration, and ensuring communication for all those involved at Northrich Elementary. I appreciate every opportunity to make connections with our Northrich community.

I am honored to continue to work alongside you to create an environment where every child feels successful both academically and socially.
Looking forward to an amazing 2022-2023 school year!
Sincerely,
Lyndsey Gammaro